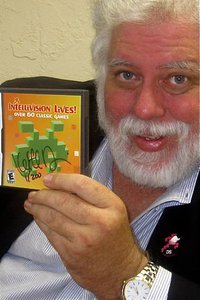 How many of you out there have heard about the Intellivision ?  What about the CBS Coleco Vision ? Well how about the Atari 2600 ??   Well if you haven't,  those three consoles back in the day are what the Xbox 360, PS3 and Wii are today – gaming consoles that have bought entertainment, fun and imagination into our homes and allowed you to enjoy arcade quality games in the comfort of your own living room.  I caught up with Keith Robinson of Intellivision Productions and asked him all there is to know about the rise and fall and rebirth of Intellivision and the gaming industry way back when PONG was the king of video games and 4k games such as Bi Planes ruled the skies.  If you're a hardcore Intellivision fan, or even a casual gamer that has always wanted to kow how it all began, sit back and enjoy this in-depth interview that will truly open your eyes and provide you with amazing journey down memory lane.  Hear what Intellivision have accomplished and what they plan for the future.
Enjoy the interview
[pro-player type="MP3″]http://www.capsulecomputers.com.au/videos/Keith-Robinson-Intellivision-Lives-Interview.mp3[/pro-player]
Historical Information
Manufacturer : Mattel
Type:  Video game console
Generation : Second generation
Retail availability :  1979 (US test market) 1980 (North America) 1982 (Europe, Japan)
Discontinued :  1991
Units sold :  3 million
Media : ROM cartridge
CPU : GI CP1610
Total Games  Created : 125
Best-selling game : Astrosmash (1Million Sold)
Check out the Intellivision Productions Official Website : http://intellivisiongames.com
Check out the Intellivision Productions Official Facebook Page : http://www.facebook.com/Intellivision
Check out the Intellivision Productions Official Store : http://www.intellivisiongames.com/store/
Special thanks to Keith for taking the time from his busy schedule to sit down and talk to us.  We wish him and Intellivision Productions all the best.
[Gallery=144]