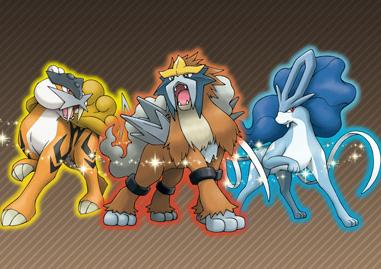 One thing that is always good news to a Pokémon fan is the news of a new event. Now if you have never heard of these "events" in the Pokémon universe, it is where owners of any of the main Pokémon series can bring their DS & appropriate title into a participating location and download either a special item or Pokémon for their game. Starting next week, players in the U.S. and Canada will be able to head into a Gamestop/EBGames and download a shiny version of the elusive Entei, Raikou, or Suicune.
Official dates for each are as follows
Raikou- Jan. 3rd-Jan 9th
Entei- Jan. 17th-Jan 23rd
Suicune- Jan 31st-Feb 6th
Titles that are able to download these Pokemon include:
Pokémon Heart Gold
Pokémon Soul Silver
Pokémon Diamond
Pokémon Pearl
Pokémon Platinum
All that is required is that you have the Pokédex in-game and also have no more than two wonder cards (if you have three,you can easily delete one from the menu).
It is great seeing continued support for all of these titles and with Pokémon Black & White right around the corner. Another thing that makes this event so special is due to the fact that the shiny versions of these three legendary Pokés would normally be extremely hard to come by so  I would advise to get these while you can as once an event is over, that's pretty much it. Don't forget to set your calenders to the dates so you don't miss out on this awesome opportunity and for even more information on this event, you can check out the official announcement here.