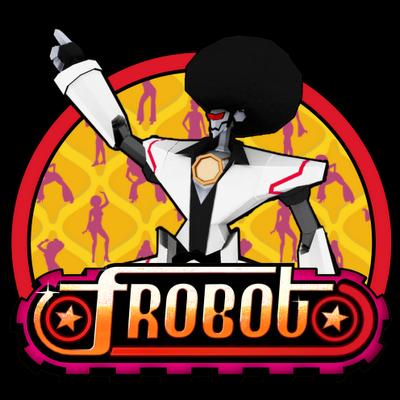 Independent developer Fugazo recenly released their first WiiWare title today by the name of Frobot and for a title that seems to have just randomly popped up during this hectic gaming season, I must say it looks to have a lot to offer. Frobot is a funky Robot who is determined to take down the Botblocker Corporation with his hair picks that upgrade his powers along with a vast assortment of moves and puzzle solving skills.
What can you expect from Frobot? Here is a list of features:
Frobot is programmed to make love, not war, but when his five foxy girlfriends get botnapped he doesn't skip a beat takin the fight to the streets. Blast your way up from the Funkytown Slums to the BotBlocker HQ and get back what's yours!
Burn Baby Burn – Earn powerful special weapons including the Robo Hustle dash and the Jivestalker disco ball to help take on the Man!
The Big Payback – Journey through a story mode filled with action, adventure, and fro-frazzling physics puzzles to rescue your girlfriends!
Find hidden power picks and upgrade your style!
It's a fight to the last Fro in Frobot's multiplaya arena! Face off with up to three of your friends on one TV to see who will earn the spotlight.
It's Raining Guns – Access an expanded arsenal of funky weapons including the Bass Bomb grenade and the Heartstopper shield!
Do the Hustle – Unlock multiplaya maps by beating single playa levels in record time!
Fugazo have also released a trailer for the game which can be watched below. The trailer alone is easily one of the best previews this year comedy-wise and I must urge all of you Wii owners to download the demo at least now to check this one out. With a full single player campaign and "multiplaya" to boot, Frobot smells like a cult hit to me and at 1000 Nintendo points, your Wii certainly could use the Funky Love from this jivin' robot.