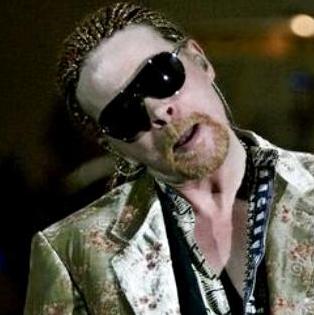 We all know Activision is considered to be the money hungry publisher and the big bad of the gaming world due mostly in part to CEO Bobby Kotick, but this whole story is borderline insane. If you haven't heard by now, Axl Rose is taking the company to court over the song "Welcome to the Jungle" as he feels an agreement was violated for the usage of the song in the game.
What was violated you may ask? Apparently before using the Guns & Roses song, it was agreed upon that if it were used, guitarist Slash was to have no part in the game, which most of you know he was not only in Guitar Hero III, but did a huge marketing campaign to promote the title upon launch a couple of years back.
"They made money hand over fist on this video game, in large part because the biggest song was 'Welcome to the Jungle' and they used 'Sweet Child of Mine' to promote it," said Skip Miller, a partner at law firm Miller Barondess, LLP. "They used images of Slash, they used Velvet Revolver. Axl is not a litigious guy, but this made him really upset. You make a deal; you expect the other side to live up to the bargain."
There is no exact number right off hand of how much Rose is looking for, but is said to be over 20 million.
"Axl didn't make a lot of money off of this game, but in my opinion, he will make a lot of money. The big money was made by Activision. He got a loyalty fee, it was under a million and is nothing compared to what we're seeking in the lawsuit," Miller said.
When No Doubt and Courtney Love sued Activision for the whole likeness issue, I kind of understood their case as Band Hero & Guitar Hero 5 were RELEVANT at the time, but in a game that is a few years old now and considering that the issue is over a petty feud, this case should be laughed out of the courts in my opinion. Yes it is bad to break any kind of agreement, but Rose is coming off looking desperate and greedy in this one.