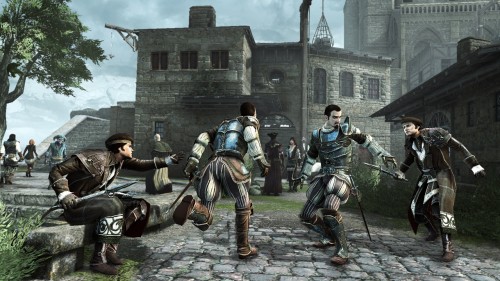 If you haven't seen it today, the first official content update for Assassin's Creed Brotherhood is available. The DLC is titled "The Animus Project Update 1.0" and it popped up today on XBOX LIVE and the PSN for free. Ubisoft also announced that the next update, the Animus Project Update 2.0 kicks off in January 2011 and once again, it's free to download.
The 1.0 Update includes a brand-new game mode and brand new map for Assassin's Creed Brotherhood Multi-player. The game mode is called Advanced Alliance; it's basically the original Alliance Mode with target identification and engagement more difficult than in original, in a bid to provide more challenge.  Three teams of two players each will now become tougher and rewards team work and stealth, which is just what we needed.
The new map is located on a rocky tidal island of Normandy in France and is said to have high-rise architecture, amongst other obstacles for your surprise assassination needs. The update in January for 2.0 will offer the same thing, another game mode and map. The Pienza Map is set to be more open for free running death matches. As for the new mode, its called Chest Capture, which are two teams comprised of three players. You basically defend or capture chests, something similar to a lot of FPS multi-player modes. One other update will be the new Templar Score feature, which rewards work done by Abstergo recruits.
So has anyone played through the game enough already and is looking forward to this? It's good to see new content come so quickly. You can check out a video of the content below.