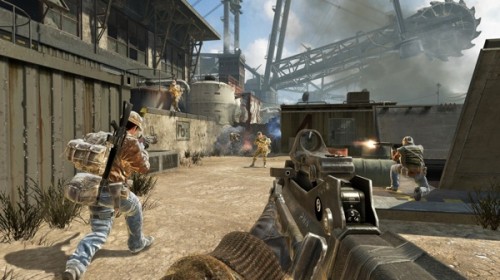 Statistics. Guns. Multi-player.  Yea, you know it.  Activision has released some extremely interesting stats on what people are doing online. (Hint: they are playing Black Ops.)
Let's get started.
The total number of registered Call of Duty: Black Ops players:
Exceeds the populations of  Austria, Belgium, Chile, Greece, Ireland, Portugal, Sweden and The Netherlands.
Is greater than the audiences that watched Jay Leno, David Letterman, Jimmy Fallon, Jimmy Kimmel, Conan O'Brien and Craig Ferguson in the U.S. for the entire week of December 6, 2010, combined.
Exceeds the audience for the series finale of ABC's Lost.
Trumps the average viewership for the 2010 Major League Baseball World Series.
Exceeds the combined audited circulation numbers for Entertainment Weekly, Rolling Stone, Playboy, GQ, Maxim (come on, really!?), Newsweek, Time, ESPN The Magazine and Sports Illustrated.
Would be the third largest state in the U.S.  (Well, if they formed a state, then maybe we could get some good legislation passed.  Hey, maybe good 'ole Activision has an all right plan after all!)
Since it launch, Call of Duty: Black Ops players:
Have played more than 600 million hours, or the equivalent of more than 68,000 years.
Have turned out in numbers that could fill the 83 largest stadiums in the world, every day.
Have spent an average of 87 minutes per day playing online, exceeding the 55 minute average that the average user spends on Facebook.
Have made Call of Duty: Black Ops a top-five trending topic on Twitter, putting it on par with The Grammy Awards, Diego Maradona, The Chilean Miner's Rescue, The Boston Celtics and Mel Gibson.  (Mel Gibson trended on Twitter? How bad is that?)
"Media is evolving and today the social aspects of technology are more important to the overall entertainment experience than ever before," said Bobby Kotick, CEO of Activision Blizzard. "Call of Duty creates a shared sense of identify for its community and is as integral to their social lives as any other form of digital communication."
"The $1 billion milestone is staggering, but it doesn't tell the whole story," said Eric Hirshberg, CEO of Activision Publishing.  "The true measure of Black Ops' success lies in the millions of hours that people are investing in this game and this community. Call of Duty has in many ways become one of the world's most engaged social networks. We are grateful to and humbled by the ongoing support of the gaming community and we are committed to continuing to give them the greatest gaming experiences that we can."
Well, it looks like Call of Duty was an undeniable success, and the map pack coming out soon will undoubtedly catapult them to rulers of the universe.  Sorry aliens.