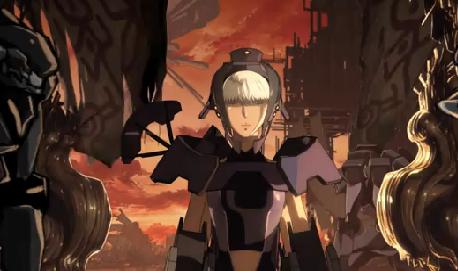 One of the first consoles I ever owned was an Atari 2600. There were many titles I enjoyed back in the day for it such as Donkey Kong, Asteroids and Space Invaders, but one of the most memorable for me was the classic Yars' Revenge. I was thrilled to hear the recent news that the age old shooter is now getting a brand new title and graphical overhaul for the Xbox Live Arcade and the Playstation Network.
Atari are bringing back Yars' Revenge in a whole new way, with an anime inspired art style and a plot that expands upon the original's story (I can honestly say I had no idea there was a story in the first, not that I remember anyway). The game also features local co-op gameplay, multiple endings, intense battles, and visually striking landscapes designed to appeal to both casual and hardcore gamers.
Here is a bit more information from Atari on this new release:
In Yars', players will take on the role of a nameless Yar, who has been brainwashed by the evil Qotile empire to do their bidding. After being shot down and rescued by the ancient and mysterious Bar Yargler, she sets off on a ferociously focused mission, to seek revenge on her former master and his deadly squad of assassins. The bio-technological nightmare of the Qotile home world provides stunning backdrops for players to fly through in aerial combat with their enemy.
"Yars' Revenge is one of the most popular Atari games of all time, leaving fans eager to experience the next chapter," says Jim Wilson, President and CEO of Atari, Inc. "The new Yars' Revenge updates this classic with anime inspired art direction, intense aerial battles and local co-op gameplay."
Normally remakes of Atari classics are a flip of a coin on being successful, but after seeing the teaser trailer, I was blown away by how the clip made this newer version look. The anime art style instantly gave it a feeling of depth and yet still feels like you can easily associate it with the classic. It may be a bit early, but I think we could be seeing a huge rebirth of a franchise here, and I can't wait to try this game out. Yars' Revenge should be out for download on the XBLA and PSN sometime in early 2011 and you can check out the teaser below for yourself.