Fans of The Witcher are getting double edged news today; the release date of The Witcher 2: Assassins of Kings has finally been set by CD Projeckt, but that date is nearly the middle of next year. Set for a release date of May 17th, 2011 The Witcher 2: Assassins of Kings will be the direct sequel to the hit first game that stepped outside of the box with it's content.
The first Witcher contained very dark themes, deep narrative and gameplay, all the while being funny and a bit adult oriented at certain times. There hadn't truly been a game like it until it's release and fans have been eagerly waiting for the sequel that was announced quite some time ago. One thing that fans of the series will notice is that the game engine, Aurora, that was used in the first game is no longer being used. Instead a new unnamed system has been incorporated and a combat system overhaul has also occurred.
I played the first game of the Witcher series myself when it came out back in 2007 and I loved it. The entire setup was something new and fresh feeling in a genre where it is easy to fall into the mundane similarities of other 3rd person RPGs. So it is great news to hear that the The Witcher 2 finally has an official date.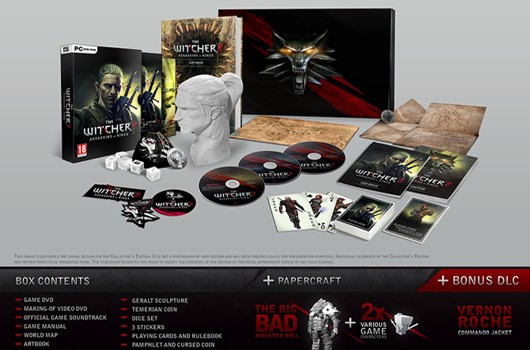 Also it just so happens that the Collector's Edition for the game has just shown up on GameStop. Being listed for $130 may seem a bit pricey at first, until you check out the contents below:
The Vernon Roche Commando Jacket (boosts player's sword-fighting abilities when equipped).
Making-of DVD
Official Soundtrack
World Map
Art Book
Geralt Sculpture
Temerian Coin
Dice Set
3 Stickers
Playing Cards and Rulebook
Cursed Coin and Pamphlet
Papercraft figures of the "Big Bad" and two game characters