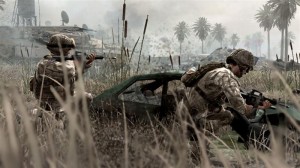 University of Abertay Dundee undergraduates (200 of them!) have launched Play2Improve, a free online service that will help train new FPS players.  It also provides work experience & training on marketing.  The program will work by simulating live action and using learning tools based on psychological research. It has been made with world champion gamer Paul McGarrity.  Play2Improve will make  money through selling personal tuition and premium features.
Matt Seeney, Play2Improve Chief Executive, said, "Being based in Abertay University has been a great help while we develop and put the finishing touches to FPS Trainer. As well as the great facilities and easy access to computer games experts, having more than 200 students prepare marketing ideas for us is incredible!  First-person shooters are incredibly popular games, but are fiercely competitive online. It can be very disheartening for inexperienced gamers to jump straight into a game like Quake Live and play online against very experienced gamers, some of whom might even be full-time professionals. By providing interactive training, FPS Trainer is much, much more sophisticated than the basic tutorial levels in games.  Using computer gaming technology, psychological research and the skills of a world champion gamer, we've developed a truly unique service that will help gamers improve their skills, and enjoy their gaming even more. We might even help create a new world champion!"
You can try it for free at http://www.fpstrainer.com/.