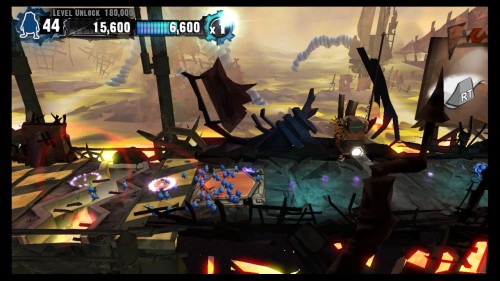 Hothead Games and UTV Ignition Entertainment announced that they will be releasing Swarm, a new comedy action adventure, on XBLA and PSN.  The release date is still in the air, but early 2011 is the time frame.  Swarm is about taking control of 50 fearless Swarmites and leading them through extremely dangerous areas as they "naturally flock and flow around obstacles." Your only objective is to collect DNA & get a single, solitary Swarmite to the exit.
Swarm is one of the most intriguing games I have ever heard about. The idea is so original and awesome that it is tough to describe.  Swarm features mass character control, similar to some robot or insect behavior.
According to Hothead, this is the first game to ever have this type of gameplay and the game is said to have some really unique puzzles that require a lot of creative and clever brain power.  It will be amazing to actually try out.
"We've been working hard on Swarm for a while now and think it's our most addictive game yet," said Joel DeYoung, Director of Game Technology for Hothead Games.  "The Swarmites are both lovable and deliciously expendable at the same time—the game's creation is proof positive of the dangers of excessive exposure to Saturday morning cartoons we were warned about so many years ago.  Swarm is exactly the genocidal romp your parents hoped you'd grow up and marry someday."