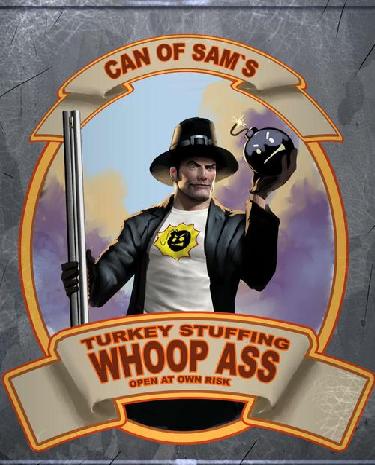 Want a SERIOUS deal on the Xbox Live Arcade? Majesco have now announced that they are cutting the price for Serious Sam: The Second Encounter this week only from 1500 Microsoft points down to just 600! This Turkey Stuffing with Whoop Ass deal is sure to be a perfect replacement for any wimpy thanksgiving dinner. If you have never tried Second Encounter, you can check out our review HERE.
Too lazy to click? Here is a description of what to expect in this jam-packed arcade title:

Serious Sam HD: The Second Encounter continues the glorious high-definition chaos with a slick new graphic presentation, intense multiplayer action, and an onslaught of all-new levels, enemies and bosses. This expertly re-vamped iteration of the original cranks the Serious Engine 3 to maximum carnage to deliver the trademark over-the-top-action that is synonymous with the golden age of first-person shooters.
Traveling through the crumbling Mayan ruins of South America, towering ziggurats of ancient Mesopotamia and the savage realm of medieval Europe, Second Encounter players will fend off never-ending waves of Lord Mental's Army. These warriors include old friends like the Beheaded Kamikaze, Syrian Werebull and Kleer Skeleton, along with five new types of baddies and three new bosses for Sam to "play with." Luckily, our hero has a HUGE arsenal of 14 'bring-the-pain' weapons at his disposal, including three new toys: the Sniper Rifle, Flamethrower and Chainsaw.
You can go ahead and get to the official page on Xbox.com by clicking here or just access the game straight from the dashboard.
Forget about black Friday being for soccer moms after tickle me Elmo, with all these hot deals lately this will go down as the week of the gamer. Keep checking back as well for even more deals this week as there are sure to be even more cuts going into Friday!