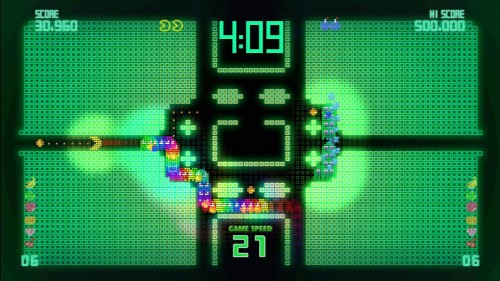 Didn't it just seem like a few days ago we had no idea when Pac-Man Championship Edition DX would be released? Well now we know when that release date will be. Tomorrow. Yep Namco Bandai has released today that Pac-Man CE DX will be coming to the XBLA on November 17th for 800 MSP, and on November 23rd on the Playstation Network for $10.
This new edition of Pac-Man brings with it new mazes and different modes that change up your standard Pac-Man experience by throwing some eye catching environments and color changing backgrounds to help keep things from getting to stagnant. There is the new Core Attack Mode, Time Trial mode, and Ghost Combo. Ghost Combo is very interesting I believe, because rather than your score counting on finishing a level and advancing, it instead focuses on how many ghosts Pac-Man can eat while keeping himself going with Power Pellets.
While there wasn't a whole lot of warning that this game was ready for the market so soon, it's great news. Pac-Man fever doesn't halt for anyone and with a variety of new modes to experience and the new graphics that it sports, Pac-Man Championship Edition DX will be hard to pass up.