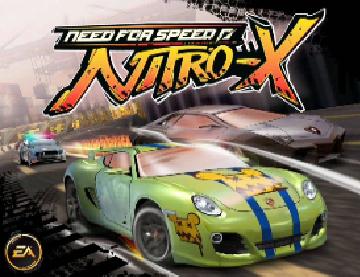 For those of you who are excited about tomorrow's release of Need for Speed: Hot Pursuit, there is another option that is headed to the DSiWare which will let you take the thrill of Need for Speed with you anywhere. Need for Speed Nitro-X is now available for download in the DSiWare Shop and is looking to fully utilize the Nintendo DSi's features for an ultimate portable racing experience.
How you may ask? There is a custom tag editor which let's the player snap photos with the built-in camera and plaster racing environments with your personal tag. Not only will customization be a top feature, but Nitro-X also features 18 supercars within the game such as the Pagani Zonda R, Porsche Carrera GT, and Lamborghini Gallardo. You can also play in the exclusive Super Pursuit Mode that lets you drive as the Cop. Players can lay down the law in 6 never-before-driven police cars, including the Hummer H2 SUT.
With 16 different tracks and 3 streamlined tiers as well as local multi-player, Need For Speed Nitro-X is looking to run over DSiWare's racing scene and at a cool price of just 800 points. For more information you can check out the official page for the newest DSiWare racer by clicking here.