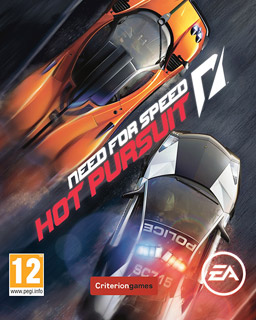 Following the great success of Need for Speed: Shift and Need for Speed: Undercover, Electronic Arts (EA) brings another hit to the NFS franchise, Need for Speed: Hot Pursuit (App Store Link). This game is just released to the App Store today, with a price tag of $4.99 (and equivalent amount in other currencies). It now shares the same price with the other NFS games on the App Store. The game is also released to the other platforms on the same day, including the Playstation 3, Windows, Wii, and Xbox 360. We don't know whether the game-play and the length will be the same across platforms, but we'll see soon enough.
What interests me about NFS: Hot Pursuit is the introduction of Autolog. It is certainly an innovative approach to connect racers from all over the world. Read this excerpt from the official website.
Autolog is the intelligent engine at the center of our most connected Need for Speed ever, keeping you in the middle of the action both in and out of the game. Through Autolog, you can track your career and game stats, check out all your captured photos, brag about your latest accomplishments, and jump directly into challenges recommended by Autolog's comparison engine based on your friends' gameplay.

And all of this will be extended to the Hot Pursuit website, as well. You'll be able to easily upload your Autolog profile picture from your computer, run a side-by-side stats comparison with any of your friends, text-chat directly with any friend in the game, and most importantly, save any Autolog Recommendation for the next time that you're in the game. This way, if you check the site on your lunch break and see that one of your buddies just knocked you out of first place on a given race, you can make sure it's all cued up the next time you're in the game.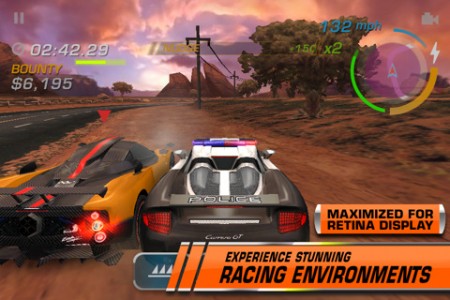 With stunning high definition visual made to utilize the Retina Display on the 4th generation's iPhone and iPod Touch (not forgetting the iPad as well), it offers a different gaming approach from the conventional racing game. You drive as a cop, and pursue the racers. Alternatively, you can drive as the racer, and be pursued by the cop. Of course, multiplayer is also integrated with local wifi and bluetooth for all the racing fun with your friends. It sure looks good from the screenshots and the video trailer. Will you get this? Let us know in the comment!
More details can be found at their official website: Link