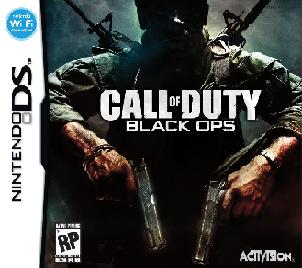 The Xbox 360, Playstation 3, and even the Nintendo Wii have all gotten some Call of Duty love recently, but N-Space does not want you to count out their portable version for the Nintendo DS. N-Space are known for their high quality shooters on the Nintendo handheld, but Black Ops may just take the cake with all of the features included.
N-Space released a list of all the features via their Facebook page recently. That list is as follows:
VOIP in MP Lobby
Unlockable MP Perks
Unlockable MP Weapon upgrades
Weapons are saved within a level
AI react to sound
Knife – secondary weapon
Throwing Knife Mechanic
Penetratable Material (thin wood, metal, etc) – Does partial damage
Commander (Battle Action Event)
Instant Lobby for Quick Match MP
Join in progress for Quick Match MP
SP Zombie Mode
Co-Op Zombie Mode
Selection of Spawn Location in MP
Manipulation of Camera during Spawn Location Selection in MP
Button Controls
MP Player Titles
Player Online Status
Join Friend Server from Online Status Info
Nintendo Leaderboards for online stats
Player controlled aircraft
Updated Menu System
Updated UI
Updated Radar Display (Agents only appear when moving or firing)
Revision of the Crouch/Run mechanic
Collectibles can be touched/shot
Max Friend list (64 Friends)
33 Player weapons
Removal of Latency check in MP
Return of Snipers in MP
12 MP Maps
4 Zombie Maps
24 SP Challenges
101 Awards
Switching weapons during a match
Switching perks during a match
Can select weapons for both weapons slots in MP
What a list indeed! With all of these features, the DS version should not be ignored whatsoever by any Call of Duty fan. N-Space has been putting a lot of love into this title and by the looks of it, this version might not only be a system seller, but a console seller as well for those wanting their COD shooter fix on the go. The Nintendo DS version of Call of Duty: Black Ops retails for $29.99 and is available now in stores.