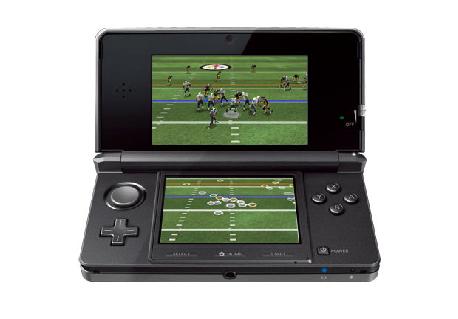 As we grow closer to the release of the 3DS, more and more developers are announcing titles that will launch with Nintendo's latest platform. EA has now announced that Madden NFL Football will be one of the first from the developer for the 3DS. One thing that surprised me with the Nintendo DS's library was that there wasn't too many football games on the system, which is fine for the most part, but sports fans are now off to a great start with this upcoming release.
Now to go over the modes and features of the title. Players can throw down in 11-on-11 football, or a more fast paced game of 5-on 5, as well as season mode. Of course the game will be using the 3D technology and with "Spotlight Moments" and "Call Your Shots" the system's technology and touch-screen can be fully utilized. The "Call Your Shots" feature will allow players to draw their own plays on the touch screen and watch them come to life in the game.
Three Modes that will be available are Gameflow, Classic, and Arcade, each playing different than the next. GameFlow automatically selects the best play for the situation based on real NFL team gameplans; streamlining play calling and shortening overall game length for a more accessible experience. Classic play call allows users to experience the full depth of selecting formations and individual plays, while Arcade play call simplifies options through a more concentrated playbook.
Madden NFL Football will also bring each of the 32 NFL teams and stadiums to life like never before with a presentation optimized for viewing in 3D, including 3D specific cameras that provide new levels of depth, making Madden NFL Football the perfect on-the-go game for every football fan.
I am not normally excited for Madden titles, but I am so ready for the 3DS that this will be one I will have to check out for sure as it looks to be a heavy hitting launch title. For more information, check out the official website at http://maddennfl.easports.com/