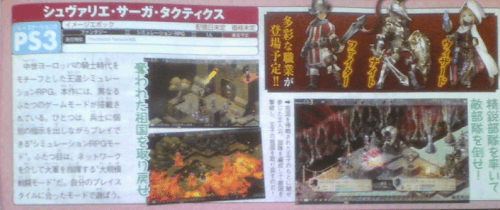 At least all of their new game announcements won't be on the PSP because Imageepoch has just announced that they are currently working on a PS3 title that will be available on the PSN for download sometime in the future. The game announced is named Chevalier Tactics. As the game title says it will place players inside of a strategy RPG.
The game itself is set inside of medieval Europe where knights and kings rule with an iron fist. What this means is that that iron fist can easily come down on any country around them and unfortunately that is exactly what happened to the protagonist as his country has been invaded and you are left with a handful of troops to lead to take back your homeland. Prepare for a lot of recruiting it seems like as you may have to build your army to take revenge.
Magazine leaks explained a bit more on Chevalier Tactics as the game will contain two different modes of play, a simulation RPG mode where you will order out groups of units to do battle, while the Network mode will provide large scale battles.
But that isn't all because they have also announced the game Chevalier Saga Tactics for the PC. This game however will be a browser based simulation RPG, meaning no reason to download this one though not sure on the full details of the browser based formula for the game.
What we do know however is that the storyline sounds different from Chevalier Tactics. Rather than having your homeland invaded, it takes place on an island where humans and dragons have lived peacefully with a treaty to not cause trouble for one another. That is until a group of unknown soldiers invade the island looking for the dragon's legendary treasure and it causes war amongst the humans and the dragons. Chevalier Saga Tactics however does have a relative release date as sometime in summer 2011 in Japan.