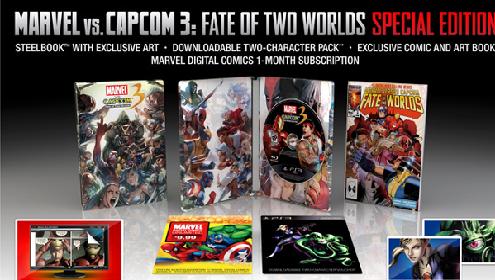 If you have been taking in every detail about the new Marvel vs Capcom 3: Fate of Two Worlds which is due out this February, then this AWESOME news is for you. Gamestop have now listed a special edition of the game that will release alongside the standard versions of the game. Another great thing about this news is that two more characters will come as DLC packed in, which will be none other than Jill Valentine and Shuma Gorath! (Both of which will be available from the XBLA or PSN 4 weeks after release)
Here is the full list of what to expect in the Special Edition for MvC 3:
Steelbook case featuring exclusive art work
Comic/Art book- A 12-page prologue comic, written by Marvel writer Frank Tieri, plus campaign art and a curated selection of fan art
1-month Subscription to Marvel Digital Comics, providing unlimited online access to Marvel content
2 Playable DLC Characters – Shuma Gorath and Jill Valentine.
Rushing to make a pre-order? Well there is even better news as those who pre-order will receive three limited edition console decals.
Capcom is easing the blow as well with all of this content being just $10 over the standard edition at $69.99. A comic book, stunning case, DLC, and the digital comic book subscription is putting other special editions to shame so maybe this can encourage some price drops on others down the road…though I won't have too high of hopes. This whole deal is a no brainer for myself as the game alone is on my list of most anticipated for 2011 and I imagine pre-orders are not going to last too long, so it is better to hop on this sooner than later. The game officially launches February 25th and as always, check back for more coverage of Marvel vs Capcom 3 and you can also check out the official page on Gamestop at this link .