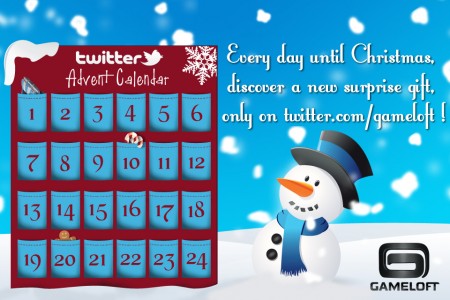 December is near, which means Christmas is coming! The very nice peoples at Gameloft have decided to gives you some early Christmas presents during this month of celebration! Starting from December 1 (that's tomorrow!), they will offer ONE surprise gift each day until Christmas day for their fans. This comes to a total of 24 presents for ya'all!
Here comes the best part, you can get stuff varies from a free game (for Apple portable devices, Android devices, or Facebook), some exclusive sneek peeks, crazy game discounts, cool goodies for their upcoming Christmas games,  and special free in-game content.  All you have to do is to follow them on twitter (@Gameloft) and wait for the special tweets! Don't miss out this special giveaway!
Q&A (courtesy of Gameloft):

1. How can I participate? What do I have to do?

This is not a contest! There are no questions to answer and no lotteries to enter. You can grab a present once you see the Advent Calendar tweet of the day and time hasn't run out yet. Just click on the link in the tweet to access your present.

2. Is there a limited supply of free presents you're giving out?

No, there will be no limit to how many people can download or access the daily present. Just be quick!

3. Is Twitter the only way to hear about the daily gift? Is there anywhere else I can find out about the gift of the day?

We'll only let you know what each daily gift is and how to access it on Twitter, because it allows for instant communication with our fans and because the availability of each present is limited. You may find news about it elsewhere on the web, but we can't guarantee the gift will still be available when you see it.

4. How long will each gift be available?

All gifts will expire after 24 hours, so be quick!

5. I don't have a Twitter account. What should I do?

We suggest you create one. It takes only a few seconds athttp://twitter.com/! Once you're done and connected, go to http://twitter.com/gameloft and click on "Follow". You'll then receive all our tweets on the home page of your Twitter account. You can also download one of the many Twitter clients for iPhone, iPod touch, iPad and Android. Plenty of them are free and they allow you to receive tweets directly on your device.