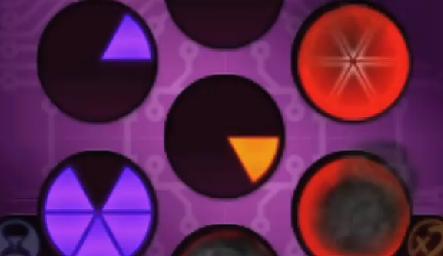 A while back before iPhone games were popping up by the thousands, Two Tribes' little puzzle game, Frenzic, was released to quite a bit of success. If your product is a hit, the next step is to branch out of course and that is exactly what Two Tribes and Iconfactory are doing by bringing the indie game sensation to the DSiWare.
Now I am sure there are some of you who may not have ever heard of Frenzic, but rest assured I have some details to fill you in on how the game works. Frenzic is a puzzle game thats tests both the mind and reflexes with colors and imagery used in full force as you climb your way through seven levels. Think of it as Simon on crack.
Features Include:
A fast-paced, addictive game that makes other puzzle games look like child's play
Full touch screen control
Real time high score updates
Complete power-ups for increased abilities
Climb through seven levels of Devotion, all the way up to Frenzic Master
Frenzic is now available on the EU DSiShop and will release in the America on the 29th of November at an affordable 200 points. Check out the trailer below to get a better glimspe of this interesting and mind blowing new puzzle game.