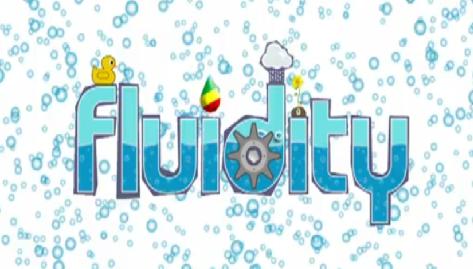 Fluidity, also known as Aquaticus, will be arriving to the WiiWare in a couple of weeks and Nintendo have revealed a rather short yet interesting video of how the game is actually played. The video pretty much features how waggle and tilt control works within the game to slosh the water back and forth. It is interesting to see Nintendo behind this rather obscure title, but Fluidity may be one of my most highly anticipated title for the WiiWare in quite a while.
Along with the video, Nintendo have also released this statement to explain some of the powers and abilities within the game:

Players tilt, twist and flick the Wii Remote controller to splash and gush past challenging obstacles in Aquaticus, an illustrated encyclopedia. Players can unlock additional powers, such as the ability to freeze into a slick ice block that can shatter. Or players can boil the water and become a menacing vapor cloud with the power to shoot lightning. Players need all these abilities to conquer the dangerous chapters within Aquaticus.
Fluidity isn't scheduled to hit the Wii until December 6th for 1200 points, but you can check out the new video below to get a nice refreshing sip of what to expect in the clip for this liquid physics- based puzzle/adventure.