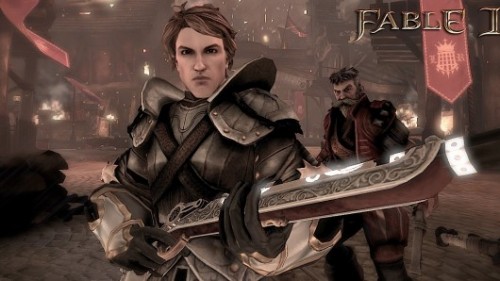 Have you perchance already finished Fable III? Do you own everything in the nation, or have 20 different wives/husbands? Well then you may feel like you've exhausted what Fable III has to offer you at the moment, but fear not because Microsoft has already developed DLC to expand upon your experience. The DLC called Understone Quest Pack will be available next week on November 23rd.
This pack will run for 400 MSP and will add a handful a few new quests to the game. The main quest is called The Voice and revolves around a mysterious voice that has been controlling the people living within Undertown and the player's quest to find out what it is and do something about it.
The other two quests are The Wheel of Misfortune and the Shooting Range. The Shooting Range will take place inside of the Mercenary Camp, which has now become a tourist attraction after the defeat of Saker. Players will be able to compete for the high score and win different prizes. The Wheel of Misfortune returns as a reusable feature inside of Reaver's home and give players a chance to do battle in the arenas with various monsters and win even more prizes.
That is the main feature of the upcoming DLC, but there are a couple smaller packs that will be available. The 5 Star Dog Potion will upgrade your faithful companion's abilities to their max for 160 MSP while the Exclusive Hair Pack containing corn rowns, afros, and a bob hairstyle to the game for 160 MSP as well.