In preparation for the new expansion, Cataclysm, Blizzard is doing a crazy promotion for the original World of Warcraft game and it's two first expansions: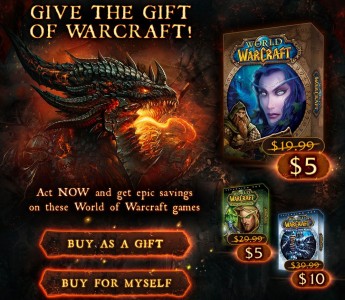 For a limited period of time, until November 30, you can grab World of Warcraft for U$5 (U$19.99 original price), the expansion "The Burning Crusade" for U$5 (U$29.99 original price), and even their most recent expansion "Wrath of the Lich King" is available for a special price, U$10 (U$39.99 original price).
It's the best chance you have to try the game and see if you still can keep your social life active, huh? Just kidding.
For all the deals check World of Warcraft @ Blizzard.
For World of Warcraft: Cataclysm you can expected the game on December 07.