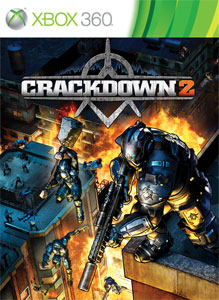 Crackdown 2 has its second add on pack coming later this month. The next Add on is called 'Deluge' and it has a new co-op multiplayer mode in which up to four players cam join forces on the streets of Pacific City to tackle waves of increasingly difficult Freaks, (Horde Mode basically). T he Deluge Pack also chucks in the competitive 'Capture the Orb' game type (capture the flag basically).
Just like the previous pack, the Deluge Pack will be available as both a trial and premium version.The free version includes the full 16-player Capture the Orb mode for multiplayer and a single-player only sample version of the Deluge co-op mode.
The full version of the Deluge pack comes complete with new achievements and Avatar awards, but it'll cost you 560 Microsoft Points. Crackdown 2 Deluge Pack will be available from the Xbox Live Marketplace on November 16th.