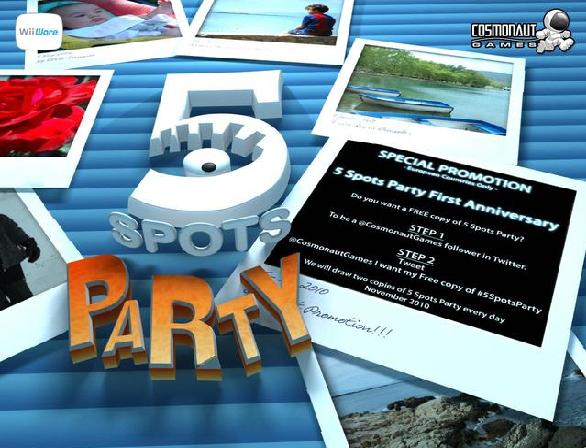 It has been a year since Cosmonaut Games released 5 Spots Party and to celebrate, the developer is giving away two copies of their first WiiWare title each day for the whole month of November.
This contest is exclusive to the European Region. To enter it is rather simple as well.
STEP 1: To be a @CosmonautGames follower in Twitter
STEP 2: Write this twitter message: "@CosmonautGames I want my free copy of #5SpotsParty"
Optional Step: Let us know you tweeted the message! Every winner who comes from this site will be awarded 100 extra cube points to their Capsule Computers account which can be used for more chances to win prizes and games with the Cube Point system. Just link to your tweet in the comments below for that extra entry. Don't forget to be following @capsulecomputer for this bonus portion as well.
The winners will of course just need a European Nintendo Wii system to claim their prize.
Cosmonaut will draw two names each day, and since the contest is going on now, I strongly recommend any of our European readers to get in on the action and enter to win 5 Spots Party for the WiiWare.
So that being said, get out there and GO WIN!