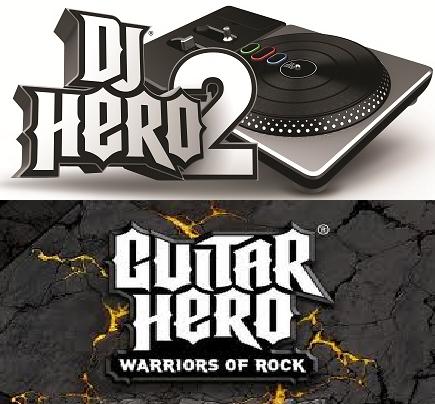 Two great announcements have been made about Activision's latest music titles, DJ Hero 2 and Guitar Hero: Warriors of Rock. The first being for DJ Hero 2. Coca Cola is bringing some free tracks courtesy of DJ and producer, Tiesto to the spinning sequel with the Tiesto Mix Pack. This pack will be free from November 23 through November 29 for the Nintendo Wii, Xbox 360, and PS3 game consoles.
Tracks in the Tiesto Mix Pack Presented by Coca-Cola:
"Traffic" Mixed With "Louder Than Boom"
"Feel It In My Bones" ft. Tegan & Sara
"Knock You Out" ft. Emily Haines Mixed With "Young Lions"
On the Guitar Hero front, Coca Cola has you covered there as well with four My Chemical Romance tracks that are being released in celebration of the band's new album, "Danger Days: The True Lives of the Fabulous Killjoys."
Four songs will be included from the albums "Three Cheers for Sweet Revenge","The Black Parade", and one track of of MCR's latest. These will also be free for a limited time from the 23rd until the 29th. After that date an official price will be set at 600 Microsoft points for 360 users, 750 for Wii users, and $7.49 for PS3 with each being also sold as singles available individually as well for roughly around $2.
Songs Include:
"Bulletproof Heart"
"Helena"
"Teenagers"
"Welcome To The Black Parade"
Nothing like some free music to get you through the holiday and with some quality tracks in the mix to boot. I honestly recommend anyone who are even thinking of getting either title if you don't already have it yet to snag these tracks up while the offer is still free and not worry about the regret of missing out on this awesome deal later.
Gamers can obtain downloadable content redemption codes for both packs, while supplies last, through  www.mycoke.com/guitarhero and  www.mycokerewards.com.  For more information and details on redemption, please visit  www.djhero.com or  www.guitarhero.com.