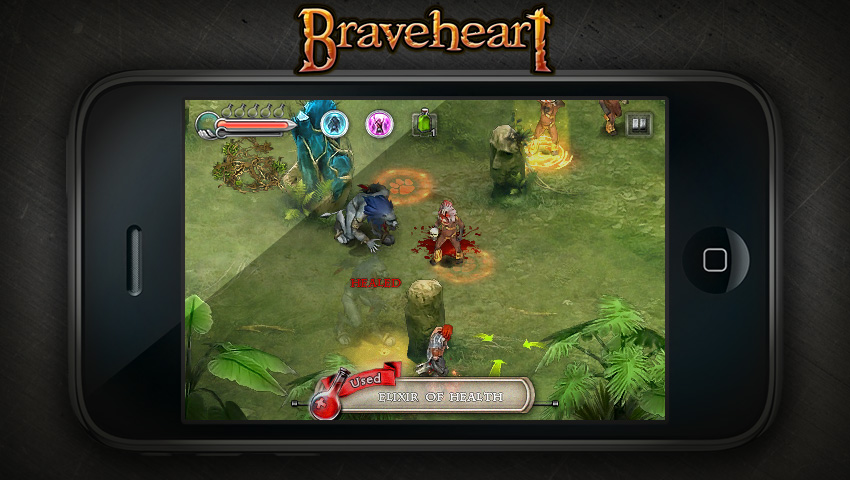 Great news peeps! Gaijin Entertainment, (also the developer of Modern Conflict, one of the best-selling games on the App Store) is going to bring a brand new action RPG for the Apple portable devices. The name is "Braveheart", and I can assure you it is certainly not what you think it is. (Not this Braveheart, Mel Gibson is not spotted anywhere in the screenshots).
You, as the brave knight with the name Richard, will be rewarded with half of the kingdom and the king's beautiful daughter if only you succeed in finding the elusive Holy Grail. It is an ancient chalice that has been protected for centuries by the most powerful creature – a massive dragon. Of course, it's not going to be easy, or else the game would end in… perhaps 15 minutes?
Looking at its screenshots, it certainly have some very polished graphical presentation and interesting gameplay. Nothing much is known about the game yet, but Gaijin is set to get its first self-published game out on the App Store by the end of this year, hopefully before Christmas. We will keep you updated. Till then, check out some of its key features and in-game footage below!
Key Features

Heart-pounding action with plenty of enemies to kill
Engaging fantasy storyline
10 different weapons to use in battle
Magical spells that can be conjured during combat
Bonuses that provide special powers and abilities
Unique boss battles—kill or be killed!
A beautiful game world with numerous locations to visit