It's crazy to think that Black Friday is already around the corner and ads have already began showing up on the internet. The newest from Sears reveals a brand new unannounced bundle though, so that makes this news all the more interesting. In the leaked ad (pictured above), shows off a new bundle for the DSi bundled with Mario Party DS. Even better, the bundles will have two colors, red and the brand new green which will be available for a limited time. The price-point is nice as well, leaving the two bundles set at $149.99 (US) each which is a decent deal for collectors or any gamers who have yet to pick up a DSi.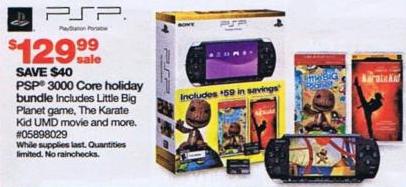 The next bundle is the PSP 3000 one which may not offer anything too exciting, but you can't beat the price. The PSP bundle offers Little Big Planet and The Karate Kid for the Black Friday pricing of $129.99.
Nintendo is sure to make a press release soon I would imagine announcing the new DSi colors. You can check out the full ad here and if anything else pops up from the ad scene, we will be sure to let you know.