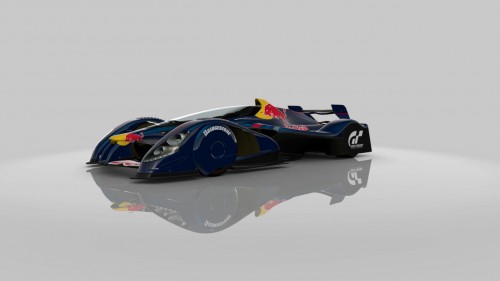 Red Bull and Polyphony Digital have teamed up to create the ultimate speed demon, the Red Bull X1 Prototype.  The real life results of the car are incredible.  Using an F1 banned technology, the team added a fan that is used to force air out from underneath the car, lowering the air pressure and creating an amazing amount of downforce.  This created results of 8Gs of lateral force and speeds of more than 450kmh.  Sebastian Vettel broke the on the record on the Suzuka Circuit by 20 seconds.
Adrian Newey, Chief Technical Officer of Red Bull Racing states, "The results were thrilling.  X1 is about evolution, delivering the optimum combination of tested technologies in a single integrated design.  This would be the future of racing were we not bound by regulations, but one that is achievable today.  And as Sebastian has shown, it is about devastating speed coupled with real handling control.  Today thanks to PlayStation 3 and Gran Turismo we can test drive the future."
Kazunori Yamauchi, President, Polyphony Digital Inc and creator of the Gran Turismo series says, "X1 sees the marriage of virtual and real worlds as we explore the boundaries of our technology and aesthetic senses.  The X1 Prototype Project has been motivated by curiosity and passion, powerful forces that brought together the best the world has to offer in design, physics simulation, racing car product technology and driving."
Be on the lookout for the new release date for Gran Turismo 5, and then play through a variety of real life cars like NASCAR and the X1. Also, you can win a chance to drive the X1 when you buy the game.  Find more info at gran-turismo.