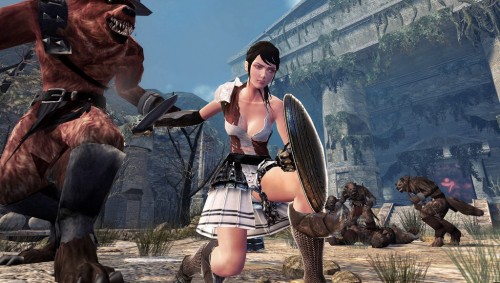 I love MMOs, and I love fantasy games. I have tried some free-to-play MMOs in the past, such as Perfect World, but I have to say that Vindictus has been the most impressive one so far.  It was actually quite refreshing! It had a really nice introduction scene (that unfortunately my computer sputtered through… but my computer is getting old) and a very nice character customization.  A lot of new games have micro customization where you can control your looks down to the length of your nose, which I personally hate.  I can never really tell how I made myself look until I hit enter, and then I'll realize that one of my boobs are lopsided or something.   This one had just enough customization.  You probably don't really care about that though.
Talking to NPCs quite honestly reminded me of a Nintendo DS game, and this part disappointed me the most about the game.  Their picture come up in the corner of myscreen with their dialog scrolling next to it, and I never really "saw" the NPC.  Instead, when I walked into a room, I simply saw a screenshot of the room and with all of the options of people to talk to along the side of it.  I suppose that's what you get for playing a free game, but it worked nonetheless.
You receive some kind of quest to do a dungeon, and it tells you which direction to go… so I went.  Their dungeon system is odd at the moment, I'll have to play some more before I will be able to really tell you the details of it.  Basically, you choose a boat, and each boat will have different dungeon quests associated with it, ranging from easy to difficult.  You choose which one you want to do, and you're off!  I fought a lot of wooden people in my beginner's dungeon.  It was fun.
For their NPCs being so underdeveloped, their fighting style was very, very nice.  Instead of locking target on an enemy and knowing that your sword swing was going to hit them, it was extremely hack and slash which was VERY fun.  What made it especially fun was the ability to do combos and special attacks.  Holding down E would grab your enemy by the neck, then pressing your right mouse button would pretty much do a choke slam.  It was absolutely thrilling!  Or I could just be way too pumped up about how many assassinations I did in Halo: Reach today too…
Overall, I give the BETA 9 Capsules out of 10.  Amazing for a free game, a little lacking in the NPC department though.
–
Twitter Contest:
Moving on though, the game will be available for open beta beginning October 13th, but I have two closed beta keys available, and I bet you want one.  All you have to do is RT on Twitter:
RT and follow @capsulecomputer @rachellee321 for a chance to win a closed beta key for Vindictus! Details here: http://bit.ly/aOUeF3
And make sure you actually follow Capsule Computers and me.  Otherwise, if you win, I can't DM you the code.  Then you lose.
My Twitter (@rachellee321)
Capsule Computer's Twitter (@capsulecomputer)