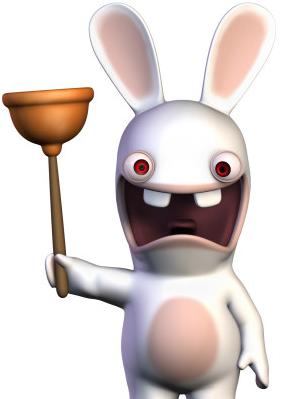 Over the years we have seen MANY video game characters make the crossover to their own cartoon. Mario, Kirby, Donkey Kong, Viva Pinata…I could list these all day. Today it was announced that Ubisoft's Rabbids would be getting their very own show. I know what you are thinking, but Ubisoft did seem to get a respected creator for the series, Aardman. Aardman have already created successful animated hits such as the Wallace & Gromit and Shaun The Sheep so it's good to know the talent will be on board. I think it was only a matter of time considering the commercials and branding the Rabbids have been garnering since 2006.
Here is an official statement from Aardman and Ubisoft on the new Rabbids series:
Miles Bullough, Head of Broadcast at Aardman, says, "When the opportunity arose to work with Ubisoft on the Rabbids we leapt at it, we absolutely love the characters and can't wait to help bring them to a television audience."
"The not-so-subtle humour of the Rabbids has made them into icons in and beyond video games," states Xavier Poix, managing director of Ubisoft's French studios. "Aardman perfectly understands that humour and we are extremely excited to be working with them to bring the Rabbids to a new medium and a new audience."
Ubisoft and Aardman's in-house digital agency, Aardman Digital, already worked together on the Raving Rabbids brand by creating the website dedicated to the upcoming video game Raving Rabbids Travel in Time, which launches in November.
The Rabbids were not available for comment at this time.
This will certainly be a project to keep an eye out for and we will bring you more updates about the series as information is released.