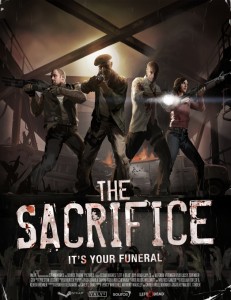 The Sacrifice, the newest DLC for both Left 4 Dead games, is already available for PC and Mac. The Xbox 360 version will be released later this evening.
As always with Valve games, this new DLC is available for free on the PC, you just need a copy of Left 4 Dead and/or Left 4 Dead 2. On the Xbox 360 is Microsoft who set the rules, because of this each game DLC cost 560MSP.
For a limited time the PC users have another advantage, Left 4 Dead and Left 4 Dead 2 received a 66% off discount together with the new free DLC. You can buy Left 4 Dead or Left 4 Dead 2 for just $6.79 each, or both games for $10.19. If you have four friends the deal is even better, you get a special bundle for $20.40, that is a mere $5.10 per person. These deals are really crazy huh, the price for both games on the PC are better than the DLC alone for the Xbox 360!
Steam links:
Left 4 Dead $19.99 $6.79 (Four Pack available for $59.99 $20.39)
Left 4 Dead 2 $19.99 $6.79 (Four Pack available for $59.99 $20.39)
Left 4 Dead 1 + 2 $29.99 $10.19