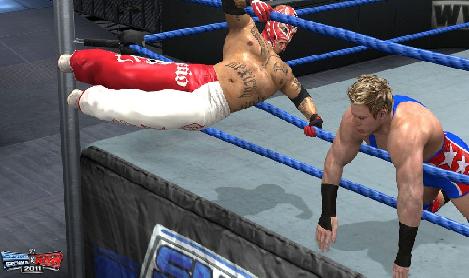 We still have a little over a week to go before the new WWE Smackdown vs Raw 2011 launches, but THQ has recently revealed a bit more insight on what you can expect in this year's the Road to Wrestlemania mode. First up is choice. Every decision you make will affect the way the storyline plays out for your superstar. Being able to now walk around backstage and interact with the superstars backstage is something fans of the series have missed heavily and it is great to see that that is the bread and butter of this year's Road to Wrestlemania mode. Now the only small gripe I have is that there is still a limited amount of superstars that you can choose from in this mode.
Those Superstars included are:
Undertaker – play in a "versus" mode against the Undertaker utilizing John Morrison, Kofi Kingston, R-Truth, Dolph Ziggler or a created Superstar
Christian
Chris Jericho
Rey Mysterio
John Cena
Of course a lot was put into this mode making up for the choices of playable characters so I am still very much looking forward to trying it out due to the RPG elements mixed in. As usual, attribute points can be earned to improve your superstar's overall stats. Players must spend these points in the training room to boost their attribute ratings, meaning the desire to max out all ratings is not an option.
Players must choose which attributes they upgrade depending on their chosen WWE Superstar and playing style. WWE Smackdown vs Raw 2011 releases on October 26th and will be available for every console, including the portables and the Playstaion 2. We will bring you more soon on WWE Smackdown vs Raw as information comes forward so keep it tuned here for more coverage.