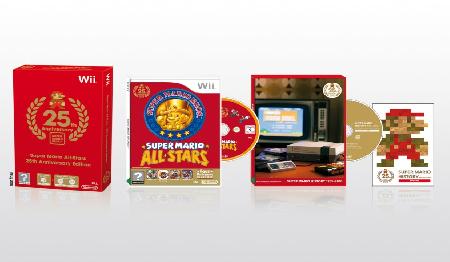 I think nearly everyone reading this has played and loved Super Mario All Stars for the Super Nintendo. It had some of the best remakes of the original NES Mario titles and was easy to get a hold of which made it "the game" to have in your collection in the 90's and even today. In some of the most exciting news this year for Mario fans, Nintendo have now confirmed today that a new 25th anniversary box set will be getting a European release!
Here is the official announcement:
Super Mario All-Stars – 25th Anniversary Edition will include a Super Mario All-Stars Disk case containing Super Mario Bros., Super Mario Bros. 2, Super Mario Bros. 3 and Super Mario Bros.: The Lost Levels all on one disk, giving Mario fans four reasons to relive the excitement of these classic games on Wii. And if you missed out on them the first time round, now's the time to discover four of the reasons why Super Mario has become one of gaming's most loved series' of all time.
This new collection will also include a special booklet detailing the full history of Super Mario as well as a real treat for fans of the series – an audio CD containing music from Super Mario games spanning the last 25 years, from the original 1985's Super Mario Bros. to 2010's Super Mario Galaxy 2, with classics such as Super Mario 64 and Super Mario Sunshine along the way.
In the quarter of a century since Nintendo game designer Shigeru Miyamoto's team put the finishing touches to his first major adventure, Super Mario Bros. for the Nintendo Entertainment System (NES), Mario has become one of the most globally recognised characters in the world of entertainment. The Super Mario Bros. series is now the best-selling video game series of all time, with more than 240 million units sold globally
I am extremely excited about this news and pray that we see a release in the U.S.. This box set was just confirmed for Japan only recently so now that an official European release has been announced, I kind of hold out hope that the rest of the world will be getting this Wii compilation very soon. Just look at all the content if your not completely sold. The soundtrack alone is worth it's weight to me alone and Mario has been needing a new compilation disc for many years so this is wonderful news that Mario is celebrating his 25th Birthday by giving to the fans who grew up on the series during his reign as video game king.
The scheduled date for EU release is December 3rd. If and when any other dates for the U.S. or AU are announced we will be sure to let you know.