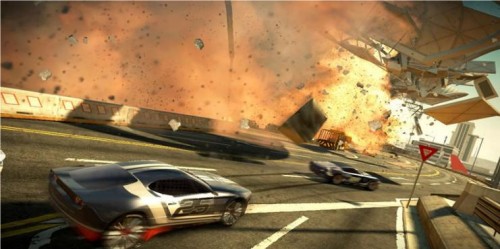 Itching for more explosions and super fast cars?  Then you are in luck.  Split/Second has already released one FREE DLC pack.  Now, you can download one more pack, Survival at the Rock, which includes the Minepit Park track and a new game mode: Survival Race. Survival Race is a re-imagining of  Survival mode, except instead of passing semis,  players must complete a set number of laps. Survival at the Rock is available now to download for 560 MS points.
STILL not enough action and craziness?  Well, you are still in luck because Disney is also releasing two more DLC packs. One of these packs is the Deadline pack, with 4 vehicles.  These cars are the Ryback Coyote Special, Cobretti Centaur, Ryback Javelin and Hanzo Kanobo.  Deadline also will have Deadline mode (imagine that!) Deadline is clock-based and players can freeze the timer.   On November 2, 2010,  the Quarry Onslaught pack will be released, which adds a  Quarry track and another new game mode, Onslaught.  Onslaught will be compatible with single player and multi-player. Players must evade  missiles shot from a circling helicopter. This game mode can be played with 9 different tracks in the game.
The Deadline pack is $5.00 & Quarry Onslaught is $10.00. You can download the currently available DLC right here! Also, one Andrew Jackson will get you the full game now at Best Buy.