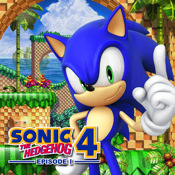 Sonic The Hedgehog 4 Episode 1 is dashing to an App Store near you!
SEGA has done it again! It's been 16 years of waiting and we finally got a sequel! Are you ready for Sonic in your pocket?
Sonic is being released to App Stores around the World with the release date of October 7, 2010. It's already in New Zealand and almost in the U.S.
Are you playing the game? Let us know what you think! Is it worthy of being called a sequel and being part of the Sonic series?
Here are some screenshots to make some us crazy:
Should we post a 3rd screenshot? Maybe just this 1 time…
Are you going to buy Sonic The Hedgehog 4 Episode 1? What do you think of it?
Here's a link to the game when it's available in your App Store