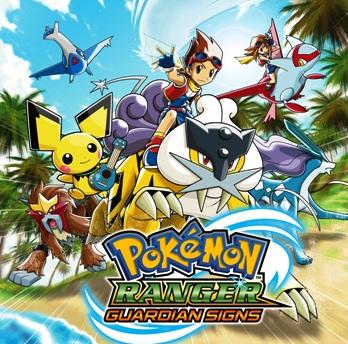 Just a reminder for all of you Pokefans out there that Pokemon Ranger Guardian signs is now available for the the Nintendo DS! Set in the Oblivia Region, players take control of the newest hero and must stop the Pokemon Pinchers who have been chasing and stealing Pokemon.
Pokemon titles usually have a lot of depth to them and this one looks no different.
Players use the Capture Styler to draw loops and capture Pokémon on the touch screen. The deeper into the story players progress, the more powers and abilities their Capture Styler gains. Players can also summon Pokémon that they have befriended, including Legendary Pokémon like Raikou, Entei and Suicune, to help them progress in the game by drawing special Ranger Signs on the touch screen. .
Up to four players play on certain Wireless Multiplayer Missions using a local wireless connection,with the multi-card wireless mode.
"Pokémon fans are always looking for new ways to experience their favorite Pokémon," said Marc Franklin, Nintendo of America's director of Public Relations. "Pokémon Ranger: Guardian Signs delivers a lot of excitement and will keep players engaged."
For those who are dying with anticipation for Pokemon Black & White to release in the U.S, this title looks to offer enough content to hold over your appetite for months to come. For more information about Pokémon Ranger: Guardian Signs, visit http://www.pokemonranger.com.