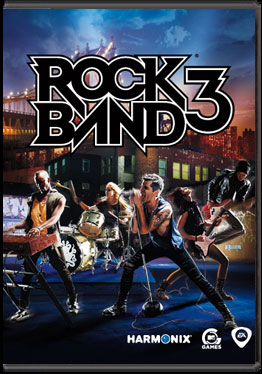 See! I got a new image, I knew I could do it. On the actual related note, that has to do with next weeks songs; they are located below. Since Rock Band 3 has Pro mode, which costs extra for the Guitar the setup is a little different. But I am sure you can all figure it out, I believe in you all! Keep in mind, that pro guitar isn't available on every song, in this case it is only available on four, the ones with the asterisk next to them.
The Doors Greatest Hits: Special Edition – 1600 Microsoft Points (160 Microsoft Points each.)
*80 Microsoft Points extra per track, for the Pro Guitar/Pro Bass upgrade
The Doors – "Light My Fire" *
The Doors – "Riders on the Storm" *
The Doors – "Touch Me" *
The Doors – "Hello, I Love You"
The Doors – "L.A. Woman"
The Doors – "Love Her Madly"
The Doors – "Love Me Two Times"
The Doors – "Peace Frog"
The Doors – "People Are Strange"
The Doors – "Roadhouse Blues"
The Doors – "Soul Kitchen"
The Doors – "The Crystal Ship"
Rush single track – 160 Microsoft Points.
*80 Microsoft Points extra per track, for the Pro Guitar/Pro Bass upgrade
Keep in mind, that future track list updates will have the Asterisk Information displayed once on the bottom. Kind of like this:
*80 Microsoft Points extra per track, for the Pro Guitar/Pro Bass upgrade