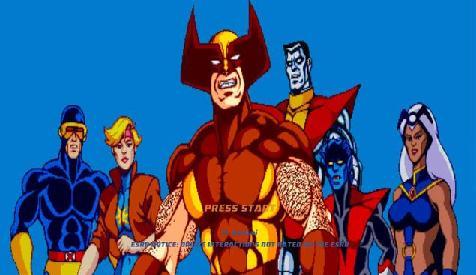 When I used to frequent a local arcade in my area, one game comes to mind as machine that stole all of my quarters and MANY hours of my time, X-Men Arcade. Konami and Marvel just announced that the arcade classic is heading to the Xbox Live Arcade and Playstation Network with some brand new features. Developed by Backbone Entertainment, this first ever home version of the popular 1992 cabinet arcade classic allows players to join their favorite X-Men characters in what is widely considered their first great video game appearance.
In X-Men Arcade, Cyclops, Colossus, Dazzler, Nightcrawler, Storm and Wolverine unite to use their special powers to save mankind from the Brotherhood of Evil Mutants and other terrible threats. Players will have to fight off hundreds of Sentinels, along with Super Villains such as Pyro, the Blob, Wendigo, Nimrod, the White Queen, Juggernaut and Mystique, as they battle their way to Island M to take down the Master of Magnetism, Magneto, and save Kitty Pryde and Professor Xavier.
"Just like with our comics, Marvel has a rich history of great video games, and we're happy to play our part with Konami in reintroducing this classic to fans of all ages," said Seth Lehman, Vice President of Digital Licensing for Marvel. "Fans have been clamoring for X-Men Arcade to hit consoles for 18 years now, and we're confident they'll find this re-release was worth the wait. The game looks and plays exactly like we remember it – all without the added worries of being low on quarters when you're closing in on Magneto."

X-Men Arcade releases later this fall (Still no solid date yet) but until then you can check out the new screenshots and trailer below.