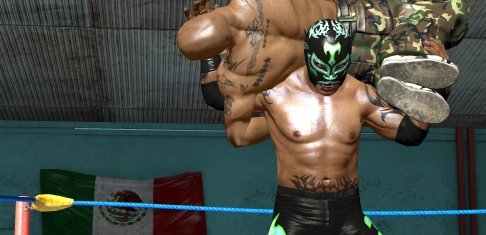 It is now officially that time of the year where wrestling fans everywhere are getting ready for the newest Smackdown title to emerge. But I can say this year another option to go to, even if you already have that copy of SvR pre-ordered for the 26th of October. Konami's Lucha Libre AAA: Heroes of the Ring is coming out next Tuesday in the states and is aiming to capture success with the built ground-up gameplay system and fan favorite filled roster. A trailer was recently released for the title showing off the multiplayer mode and quite honestly looks great from what I have seen.
The movements do look a bit robotic compared to the Smackdown series but Lucha Libre AAA: Heroes of the Ring seems to be going for a more "meat and bones" approach with the actual sport of wrestling being the high point of the title.
A sad announcement was made recently though for all U.S. residents though. Due to saftey issues the pre-order masks will sadly not be a Gamestop bonus. For those who just let out a collective sigh, be happy to know that the good out of this is the $10 discount that all pre-order customers will receive instead.
Check out the new trailer below and judge the game for yourself. In the comments, let us know what you think as well, and which wrestling title are you most interested in?