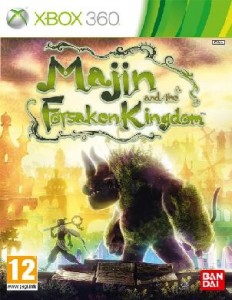 After already generating a lot of buzz and already going gold in Europe, Namco-Bandai's Majin & the Forsaken Kingdom is shaping up to be a heavy contender for this November's already jam-packed release schedule. For those who can not wait until the release date of November 23rd (or the 25th for you in Europe), Namco-Bandai will be releasing a demo on the PSN and Xbox Live tomorrow on the 27th.
For those who haven't been keeping up with Majin, players will take the role as Tepeu, a cunning individual who must rely on his agility to triumph over increasing obstacles. As far as brawn and brute strength goes, you will be teamed with an AI controlled monster who can assists in acquiring additional abilities that will provide access to previously obstructed areas.
In the demo, players will set out on the game's very first level where the hero first encounters the Majin. Together they embark on their voyage through the beautiful, yet darkness-infected kingdom. The demo gives players a taste of the vast wealth of gameplay the full version possesses with vile enemies to overcome and conundrums to solve.
Action-Platformers seem to be popping up everywhere and this one seems to pack the punch with some beautiful graphics and what looks to be an engrossing story with some single player co-op themed puzzle solving and stealth to add depth to the gameplay. Check out the trailer below and be sure to friend Majin on the official facebook page here for even more updates.