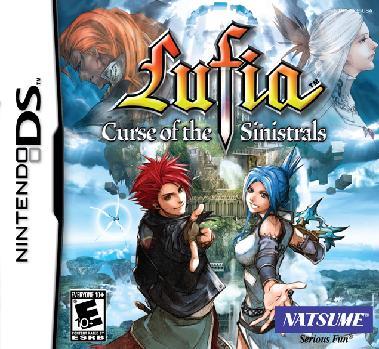 Back in the old days when the Super Nintendo dominated the RPG genre, the Lufia series was one of the best video game series to grace the console. With an addictive battle system, pure quality soundtrack and compelling stories, both Lufia titles are still highly sought after by RPG fans today. After many years of waiting for a new title to release, Natsume are now about to launch Lufia: Curse of the Sinistrals exclusively for the Nintendo DS.

"It's time to return to the world of Lufia!" said Hiro Maekawa, President and CEO of Natsume. "With its thrilling action, mind-bending puzzles, and moving story, Lufia: Curse of the Sinistrals sets a new bar for action RPGs on the DS!"

The Sinistrals, legendary gods of destruction spoken of in feared whispers, have returned. The world's mightiest armies are helpless to stop the fear and chaos spreading across the land. It's up to the fiery monster hunter Maxim and his eclectic band of adventurers to put a stop to the Sinistrals. Their adventures will take them across an expansive world packed with deadly monsters, powerful items, and diabolical puzzles!
Unlike the other Lufia titles, Lufia: Curse of the Sinistrals is an action-rpg. The title also features six playable characters to choose from, each with their own special abilities and attacks. It also appears that in order to move on in the game, players will need to master use of each character which should add a hefty amount replay value. If you haven't seen the trailer yet, you can check it out below. The visual presentation and fresh new battle system look look stunning in my opinion based on the trailer alone. October 12th will mark the release of what could be one of the best RPG titles of 2010.