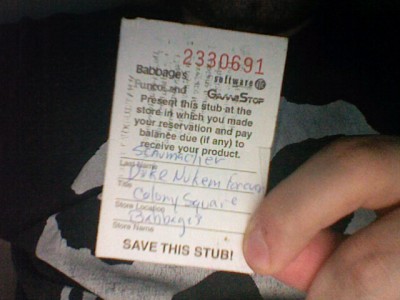 See that picture up there? That poor fellow pre-ordered Duke Nukem Forever back in 1998. Also see the list of stores on there? The only one that is still very well recognized is GameStop, with the rest of those stores being either re-named to the aforementioned used game giant or have shut their doors entirely. But gamers may see something back for the money they spent many years ago.
Gearbox's boss Randy Pitchford spoke with VG247 in London and told them that they would like to not let down people who happened to pre-order DNF all those years ago. They have even started to inquire to game retailers on whether or not they can still make these people happy. His full response is below.
"There are a lot of people who pre-ordered the game. We've been starting to talk with retailers because we didn't take them directly, and 3D Realms didn't take them, it was all retailers going 'I'm going to take this guy's money.'

"We've started to engage them, saying 'Hey, you've got customers who you made a promise to, and any bad feeling they have will reflect on us, so can we work together to do something for those people?'

"I don't know what we can do yet, but something should be done for the people who pre-ordered."
Question is however, what if the company you pre-ordered your game from happened to go out of business. Or what if you lost your receipt, or simply had it disintegrate, or fade into unintelligible letters. Twelve years is a very long time for a receipt to last. It is nice to see that Gearbox is extending their hands to the gaming community, but the question is: How will they be able to handle the above circumstances with consumers?
Image Courtesy of Robbie Schumacher