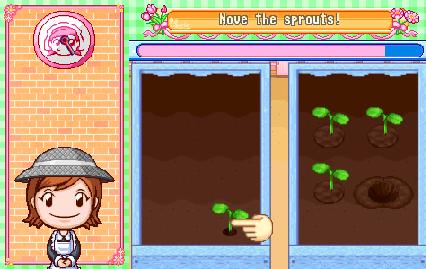 All of the mobile farming market can now be put to shame as Mama is now on the App store to show everyone how to properly harvest their crops. Majesco and Taito have now announced that Gardening Mama is now available on the App Store. he App is an extension of the Cooking Mama franchise that has sold nearly 7 million units in North America and lets iPhone, iPad and iPod Touch users nurture 18 different flowers, fruit trees and vegetables across 20 different mini-games.
"We are thrilled to make Gardening Mama available on the App Store," said Jesse Sutton, Chief Executive Officer, Majesco Entertainment. "This release ensures that the Mama franchise continues to grow and reach new players."
The Gardening Mama App for the iPhone, iPad and iPod Touch lets players grow exclusive plants including: Durian Fruit, Eggplant, Chamomile, Basil and Lavender. Budding green thumbs use the innovative Multi-Touch user interface to control all aspects of their garden, from planting, watering, fertilizing and eliminating pests to harvesting what they've grown. Beyond growing, players can also "Make it Fancy" by using unlocked bonuses to dress up and accessorize Mama in fun new ways.
For those who haven't had a chance to play the DS version or fans of that game or any of the Mama series, this looks to be a perfect app to practice your farming on the go for a low price of just $6.99. For additional information on the Cooking Mama franchise please visit www.cookingmamaus.com.