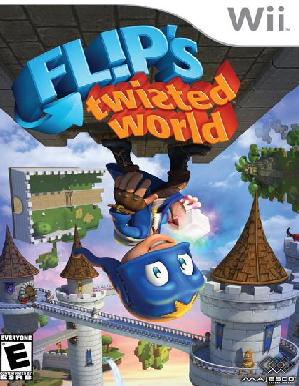 Majesco's new puzzle-platformer, Flip's Twisted World is now available for the Nintendo Wii as of October 19th. We recently brought you a gameplay trailer for this unique title that lets players think outside the box and navigate a world that is literally in the palms of their hands. Flip looks like a title certainly worthy of any platforming fans attention as not only is the game interesting and reminiscent of some of the great platformers from the past, it has a score developed by none other than Tommy Tallarico himself.
Here is the official announcement of release from Majesco:
Featuring an original score from video game legend, Tommy Tallarico and the voice talent of Anthony Stewart Head, Flip's Twisted World follows the adventures of Flip, who messes with a forbidden magic book and gets sucked into a crazy cubed universe where up and down are just a matter of perspective. With a simple flick of the wrist using the Wii Remote™, players can rotate the environment 90 degrees in any direction, opening new paths and possibilities; an obstructing wall can turn into a path and a pit can turn into a corridor. In their journey, players travel through six bizarre, puzzle worlds: a celestial backwater, a fractured castle, a dense jungle full of booby-trapped temples, a frozen arctic wasteland, a network of subterranean lava caves and an intricate clock tower in the sky. Along the way, Flip will encounter both friendly and menacing creatures as he collects magical items and powerful weapons like the Ice Spray, Zapper or Water Cannon. Players can also unlock goodies and alternate costumes and learn more about the secrets of the magic universe's past by finding pieces of The Master's lost journal.
Flip's Twisted World can be found wherever video games are sold at $29.99 (US). To watch a new gameplay trailer and find out more, please visit www.FlipsTwistedWorld.com.