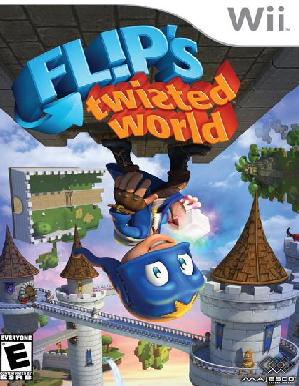 Flip's Twisted World is only a week away and if you have never heard of this upcoming 3D puzzle/platformer from Majesco, now is a great time to take notice. Demanding players to "think outside of the box", Flip's Twisted World as they navigate six bizarre puzzle worlds, such as a fractured castle, a dense booby-trapped jungle, and a labyrinth of subterranean caves. A flip of the WiiMote changes the environment around you as well adding a unique blend of gameplay and innovation.
In the game, Master Fulcrum's curious apprentice, Flip, messes with the wrong magic artifact and gets sucked into a cubed universe. To escape, Flip must turn the world any which way he can to reveal new paths and overcome obstacles. While adventuring through five bizarre puzzle worlds – such as an arctic glacier and a clock tower in the sky – Flip must stop the destruction of the universe and restore The Master's home to normal before he returns!
Adding to the already detailed and charming environments is a top grade soundtrack with a score from one of the biggest legends in video game music, Tommy Tallarico. Voice talent is also A-List with Buffy the Vampire Slayer's Anthony Stewart Head offering his vocal work to the game.
Flip honestly looks great and reminds me of some of the better platformer titles from the N64 era, but of course with much better graphics, music and innovative gameplay. You can check out the brand new trailer for Flip's Twisted World below and it will be available October 19th exclusively for the Nintendo Wii.