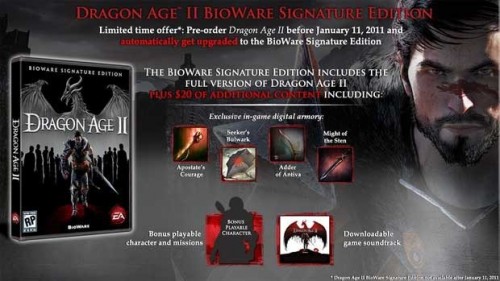 It's great to see a company give back to its fans. Especially when they give back with a completely free upgrade to a Signature Edition for a game that you otherwise would have pre-ordered anyways. Yep you are hearing me right. If you happen to pre order Dragon Age II anytime before January 11, 2011 then you are in luck as you will have your standard edition upgraded to the Signature Edition free of charge.
This Signature Edition comes with the features you see above, including a downloadable code for an additional character and new missions, a digital version of the game's soundtrack, and an armory in game that features a plethora of different weapons you can use to help buff your party out right from the get go.
Bioware's statement for the special edition comes from Dr. Ray Muzyka; Senior Vice President of EA and co-founder and Group General Manager of Bioware;
"Over the past 15 years, we've been privileged to have the support of a passionate community of fans, who continue to grow in number with every game we release,. "The BioWare Signature Edition of Dragon Age II is a chance for us to reward loyal fans who pre-order the game by providing them with additional high-quality content for free."
The estimated cost of all the free content you receive from pre-ordering comes to around $20. So basically if you had any thoughts of pre-ordering the game then now is the time to do it. That way when March 8th rolls around you will be picking up your Signature Edition Dragon Age II for the PS3, 360, or PC without paying a dollar more.
This bonus is available in the US, Australia, New Zealand, South Africa, and a handful of unnamed European countries. The pre-order itself can be made at either Gamestop, Amazon, Electronics Boutique or the EA store. But don't worry if none of these are available to you as more will be announced later on.