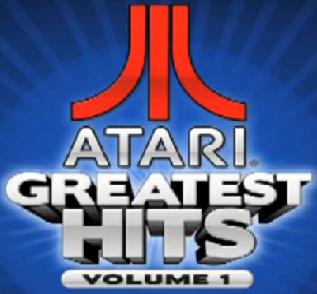 The golden days of gaming can soon be relived once again on the Nintendo DS as Atari have announced Atari's Greatest Hits: Volume 1! Featuring legendary titles such as Asteroids, Pong, and dozens of other classics, this new compilation looks to be packed full of nostalgia. One of the main features included will be the single & multi-card multi-player modes allowing for other players to join in on 20 various titles in the game. Additionally, Atari's Greatest Hits: Volume 1 will feature the original game manuals for each title, an Atari memorabilia showcase, and special bonus extras – including an Atari Trivia game where gamers can race against the clock to answer questions about Atari history and then post their scores to Atari.com.
"Featuring 50 of Atari's most iconic games that defined a generation, the launch of Atari's Greatest Hits: Volume 1is a dream come true for casual players", said John Burns, Vice President and General Manager for Atari Europe, "With the inclusion of a new single cartridge multiplayer mode, original game manuals and new special content, the compilation offers players the chance to re-live the old school days of classic arcade games".
Along with the announcement a list of all the games were given as well. Here is what you can expect in Atari's Greatest Hits: Volume 1:
Atari Arcade Hits
Asteroids, Battlezone, Centipede, Gravitar, Lunar Lander, Missile Command, Pong, Space Duel, Tempest.
Atari 2600 Favorites
3D Tic-Tac-Toe, Adventure, Air-Sea Battle, Asteroids, Atari Video Cube, Basketball, Battlezone, Bowling, Centipede, Championship Soccer, Dodge 'Em, Flag Capture, Football, Fun with Numbers, Gravitar, Hangman, Haunted House, Home Run, Human Cannonball, Math Gran Prix, Miniature Golf, Missile Command, Outlaw, Realsports Baseball, Realsports Boxing, Realsports Football, Realsports Tennis, Realsports Volleyball, Sky Diver, Slot Maching, Slot Racers, Sprintmasters, Starship, Stella Track, Submarine Commander, Surround, Swordquest Earthworld,Swordquest Fireworld, Swordquest Waterworld,Tempest and Video Checkers.
The ability to once again play Lunar Lander is enough to make me more than excited for this compilation and there seems to be something for every kind of gamer with the 50 titles in the mix. The scheduled date for arrival is November 2nd and you can also check out the trailer below and we will more updates about Atari's Greatest Hits: Volume 1 as we hear it!