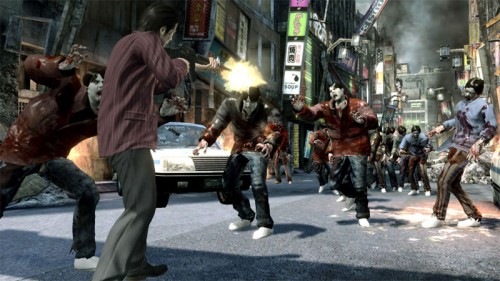 Sega has been hinting at a new Yakuza game focused on the theme of destruction for the past few weeks, but didn't really explain much about it. Well, thanks to the Tokyo Game Show, we now have some details on it. You ready for this? Zombies. Yep. Zombies. Now wait a minute, let me tell you why this is a great concept for a Yakuza game.
So far every Yakuza game in the series has been pretty… standard for a crime drama. Rival gangs fighting other rival gangs, this guys doing this to that guy, someone's getting double crossed, oh, maybe the CIA gets involved, oh and did I mention Kiryu opens an orphanage? Yeah, pretty standard things that the Yakuza normally do. SEGA knows they can't keep doing the same thing over and over again, but rather than add more friends and change the gameplay radically from what we know, they decided to take a look at something a little more realistic.
Zombies? Realistic? No, that's not where I'm going with this, but look at the situation. All these Yakuza gangs live in Tokyo, and now there's something coming that's destroying their home. In real life, during times of great crisis the local Yakuza gangs would band together to help people out, for example during the Great Hanshin earthquake in Kobe, members of the Yamaguchi-gumi were there immediately to help people out.
That's why I feel like this is gonna be a great game, yeah, I'm tired of the whole "zombie" fad too, but this game isn't so much about zombies, but about rival gangs coming together in times of crisis to help each other. I wouldn't be so quick to consider this as Yakuza 5, but rather a spin-off similar to Yakuza Kenzan, a side-story that gives you a fun alternative to the main story. I know I'm definitely gonna be picking this one up day one, unless SEGA decides not to release it here, in which case I'd be VERY angry!