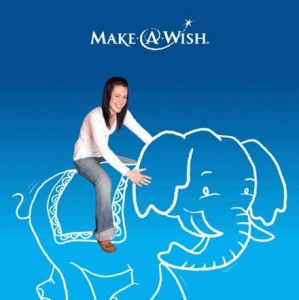 Do you live in Australia? Do you own an Xbox and plan on getting Halo: Reach? Do you wanna donate to a charity at the same time as enjoying a great game? Then get a load of this! All proceeds from Halo: Reach avatar apparel and $5 from every Halo: Reach wireless headset sold will go straight to the Australian branch of the Make-A-Wish foundation! The Make-A-Wish foundation was formed as a way to help kids with life threatening illnesses make a dream come true. So if you feel like doing something good when Halo: Reach comes out, then make sure to buy some avatar clothes and a wireless headset! Check out the press release below:
Xbox and Make-A-Wish® Australia Join Forces in Online Fundraiser
Aussie student inspires idea to use Halo Reach to raise money for charity partnership
SYDNEY, Australia. — September 2, 2010 — Xbox Australia has just announced a partnership fundraising campaign with Make-A-Wish® that will see proceeds from the sale of Halo Reach avatars and the Halo Wireless headset for the highly anticipated game on Xbox 360, Halo Reach, go to helping the charity grant Wishes for children with life-threatening medical conditions.
The announcement is led by Apollo 11 moon-landing astronaut, Buzz Aldrin, this week at a public lecture at the University of Technology, Sydney (UTS).
Managing Director for Xbox Australia, David McLean, said the idea to partner the launch of Halo Reach with a charity came from an unlikely source but was truly inspirational.
"The inspiration for this campaign actually came from a marketing student at Queensland University of Technology (QUT), Brendan Graham, who posted it online as part of a marketing competition. Our team saw this and spoke to Brendan directly to ask if he could help us make it happen. We contacted Make-A-Wish with the idea and away we went. It's very exciting for Xbox to see the idea take shape and become a reality", McLean said.
McLean also said partnering with Buzz Aldrin to make the announcement came as a natural fit due to the setting of Halo. Halo is a science fiction game series based in a world where space travel between planets is commonplace.
The Halo game series has reached blockbuster status worldwide and has sold over 1 million copies in Australia alone over its franchise history – one of the most popular Xbox games in Australia to date.
The campaign will give 100% of proceeds from the sales of Halo Reach avatars sold to Australian customers till October 31st, 2010 and $5 per unit sold of the Halo Reach wireless headsets sold in Australia, go directly to Make-A-Wish.
Interim CEO of Make-A-Wish Australia, Vici Funnell, welcomed the commitment from Xbox and said the campaign will provide a great boost to help the organisation with its goals in the coming years.
"Make-A-Wish Australia are very happy to continue the relationship with Xbox. Our key aim is to assist our Wish Kids as they fight illnesses and enrich their lives with hope, strength and joy and we applaud Xbox for helping us do this – we are truly grateful." Vici said.
Forty one years after walking on the moon, Buzz Aldrin is visiting Australia to launch the much anticipated Xbox 360 exclusive, Halo Reach. Mr Aldrin personally announced the partnership between Xbox and Make-A-Wish at a public lecture at UTS this week. He said he was impressed with the idea to engage Xbox gamers to deliver support funding to charity.
"It's great to see how a company like Microsoft can utilise its relationship with the Australian Xbox LIVE community to raise awareness and funding for such a great cause. It's inspirational." Buzz said.
Details of donations from Halo Reach profits that will go to Make-A-Wish:  Donation to equal $AUD30,000 minimum:
–          For every Halo Reach Avatar item purchased by Australian gamers by October 31st, 100% of proceeds will go to Make-A-Wish.
–          For every Halo Reach Wireless headset sold in Australia, $5 per unit will go to Make-A-Wish
About Make-A-Wish
Make-A-Wish® Australia grants the Wis hes of children with life-threatening medical
conditions to enrich the human experience with hope, strength and joy. The Foundation was established in 1985 and has since granted over 6,200 Wishes nation-wide.
We have over 1,200 volunteers at 59 branches across Australia. In 2009 alone Make-A-Wish® granted 400 Wishes to children with life-threatening medical conditions.
About Xbox 360
Xbox 360 is a premier home entertainment and video game system. This holiday, with the addition of Kinect, Xbox 360 will transform social gaming and entertainment with a whole new way to play — no controller required. Xbox 360 is also home to some of the best and broadest games as well as a large on-demand library of standard- and high-definition movies, and digital games, all in one place. The entertainment centre of the living room, Xbox 360 blends fantastic content with an online social network of 25 million Xbox LIVE members to create a brilliant entertainment experience that can be shared at home or across the globe. More information about Xbox 360 can be found online at http://www.xbox.com .
About Xbox LIVE
Xbox LIVE is the online entertainment service for your Xbox 360, connecting you to an ever-expanding world of games and movies and social entertainment. With an active community of 25 million people across 35 countries, Xbox LIVE lets you play games, and share the fun with friends around the world. Xbox LIVE is also the exclusive home of controller-free online entertainment through Kinect, making your Xbox 360 more intuitive and interactive than ever before. With Xbox LIVE and Xbox 360, you have instant access to the entertainment you want, shared with the people you care about, wherever you are. More information about Xbox LIVE and services for your country can be found online at http://www.xbox.com/live.
About Microsoft
Founded in 1975, Microsoft (Nasdaq "MSFT") is the worldwide leader in software, services and solutions that help people and businesses realise their full potential. Xbox 360, the Xbox 360 logo, Xbox LIVE are trademarks of the Microsoft group of companies.